New Titles From Northern Bee Books (Not listed in the Bee Books Store) Back
Mad about Mead Pamela Spence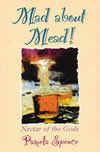 Pamela Spence (Ohio) is a beekeeper and founder of the American Mead Association. Her articles on beekeeping and meadmaking have been published in various trade publications, and she has conducted numerous workshops, lectures, tastings and mead judgings.
Bees of the World Christopher O'Toole & Anthony Raw

Acclaimed
as the popular reference with comprehensive coverage of bee species from around the world.Covers the huge diversity of life-styles, behaviour and life-cycles, from solitary to social bees.
Describes
the long, close association with humans, especially the honey bee Apis mellifera.
Fully illustrated
with detailed line diagrams and stunning colour photographs. Chris O'Toole has curatorial responsibility for bees and wasps at the world famous Hope Entomological Collections of the University Museum in Oxford. As well as being a world authority on bees, he is a frequent broadcaster and has written extensively on the topic. Tony Raw is a UK professor in the Department of Ecology of the University of Brasilia, where he is studying bee behaviour in their tropical habitats.
Post paid price £18.75

Bee Boles of the South West by Bob Ogden


Tells the fascinating story of the earliest beginnings of beekeeping in South West England with special mention of monastries, weather protection and the beekeepers of the past. It also includes details of surviving bee boles with a very detailed list of them in Devon, Cornwall, Somerset and Dorset. There are 6 colour plates and 19 black and white drawings. Only £16.99 post paid


Medical Aspects of Beekeeping by Harry Riches


This new book by a Senior Consultant physician and well-known beekeeper provides a clear description of the basics of the complex subject of allergy for the general reader. The claims of the medical benefits of honey, pollen, Royal Jelly, propolis and venom are reviewed scientifically. An invaluable reference for those interested in bee venom allergy and keen to take a balanced view on the many claims for apitherapy. Only £10.95 post paid

Elimination of American Foulbrood
without the Use of Drugs


A Practical Manual for Beekeepers by Mark Goodwin & Cliff Van Eaton
Only £15.50 post paid

© Copyright BeeData