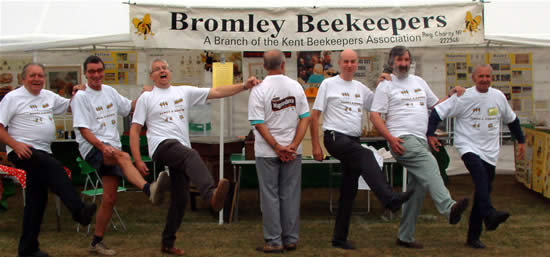 Bromley Beekeepers rehearsing before opening to the public (photo Tom Winks)
EDITORIAL Back to top
And so we come towards the end of another year; one that has passed with astonishing rapidity and one where we have issued only ten editions of Apis-UK. Many will be wondering about this, but the reason is straightforward: pollination! Moving thousands of hives in and out of orchards at night from one type of kiwifruit to another takes an enormous amount of time and energy and in one's extremely rare moments of relaxation, the arm has only enough energy to reach for a beer, certainly not the keyboard. I am free of this menace now though because as I write, the last truck has set out to effect the last withdrawal from the last orchard for this year and I might just get a decent night's sleep tonight. No more beekeepers getting lost in the millions of identical looking orchards; no more trucks breaking down in the middle of the night; no more orchardists spraying the bees to extinction so that the hives are useless for the subsequent honey crop. Issues of Apis-UK will again return to being a monthly event; probably late as is customary, but monthly at least. Until the next time.
And in this November/December issue we cover an enormous amount of ground from how butterflies invented the LED right through to how fish positively affect bees. One of the most interesting things about editing a beekeeping magazine is the huge amount of information on all aspects of biology that comes in. From interesting trivia to research items of immense interest, items flood in to be sorted and put into readable form. For instance this month, apart from the very interesting fish/bee thing mentioned above, we look at another aspect of electro magnetism from Ian Rumsey and its effects on bee colony development and on a totally different tack we see how wasps are now being dragged into the business of sniffing out drugs and explosives.
One of the most pleasing aspects of 2005 has been the rise in readership and the growing internationalisation of the readership. I have now received letters from every continent (except Antarctica where there are no bees) and this to me suggests that Apis-UK is at least getting something right. In this issue we even review a book in Spanish – not to push the point but because it is the first book on bees that I have seen that attempts to put over the point that beekeeping may not always be all sweetness and light, but that even though problems do persist at times, a good bout of humour can put things back into perspective.
Honey can be adulterated very easily and palmed off to an unsuspecting public who pay good money for a pure, natural product. I have heard many beekeepers dismiss this type of activity as being an issue only from certain countries – but now we see more evidence that probably all countries get involved in the business. Both the UK and New Zealand have ongoing court cases of honey scams, and this in a month when China has decided to apply a honey standard to its own products – and one which I have no doubt will be strictly enforced. This takes effect next year and puts the rest of us on notice to clean up our acts.
After passing through genetics, varroa and Royal Jelly, we conclude this issue with an interesting historical note taken from the fledgling revolutionary Soviet Union, a delicious recipe, an interesting quote and an international array of letters. I hope that you enjoy this ultimate issue of 2005 and it just leaves me to say that I hope you all have a very happy Christmas and a good 2006, but before finally saying goodbye to 2005, I wonder if anyone knows what is going on in this photo. It was taken by Colin Eastham, a professional beekeeper from the UK and member of the BBKA (Cumbria) who currently works in New Zealand with me. Let me know what you think.!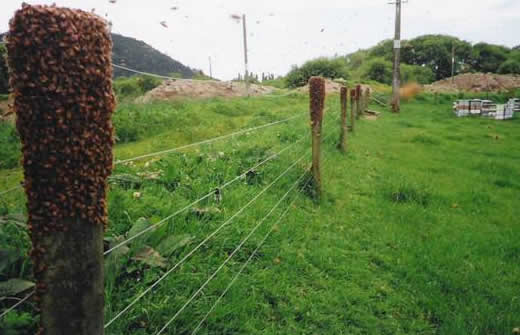 All the best and again a very happy Christmas from Steve Turner and myself,
David Cramp. Editor.
NEWS Back to top
CARDIFF SCIENTIST TO STUDY HONEY
A British scientist has clinched a £28,000 ($71,000) grant to fund research into how New Zealand-made honey can combat the killer MRSA superbug. When microbiologist Dr Rose Cooper, based at the University of Wales Institute, Cardiff, began studying the health benefits of honey eight years ago, she said people thought "she was off her trolley". But now cash from the British Society for Anti-Microbial Chemotherapy will fund her research for 12 months.
STATEMENT BY LORD BACH FOLLOWING HIS MEETING WITH THE BRITISH BEEKEEPERS' ASSOCIATION ON 10TH NOVEMBER 2005
Speaking after a meeting on 10th November with Dr Ian Gibson MP and the British Beekeepers' Association (BBKA), Lord Bach, Minister for Sustainable Farming and Food, said:
"A healthy population of honey bees is crucial to the sustainability of the English countryside, contributing both to agriculture and biodiversity. The meeting has shown that Defra and beekeepers recognise the importance of effective measures to control disease and that the responsibility for these is a shared one.
Beekeepers have expressed concern about possible future deregulation of European Foul Brood (EFB), a highly infectious disease of honey bees, and consequent reductions in the bee inspection service and bee research. They have emphasised the importance of the inspection service to early detection and diagnosis of EFB, to prevent the spread of the disease and enable the appropriate treatment to be applied.
I have listened very carefully to beekeepers' concerns. The 'shook swarm' technique, which is being evaluated by the National Bee Unit, could provide an alternative to the use of antibiotics in disease control. However, as I said earlier this year, we have no wish to introduce changes which would prejudice the effectiveness of disease control measures. I stand by this. Whilst I cannot anticipate future expenditure decisions, I have assured the beekeepers that we will not cut expenditure on EFB inspections without further consultation and unless it is clear that control of the disease will not suffer. We will share all the evidence with the beekeepers before proposing any such change.
The responsibility of individual beekeepers to keep their stocks in a healthy condition is also of critical importance. I have discussed with BBKA how the considerable assistance which is already made available by the Central Science Laboratory's National Bee Unit to individual associations can be made even more effective. The BBKA have agreed to consider how best to ensure that disease recognition is taught more systematically in introductory courses and to ask their examinations board to consider a stronger emphasis on disease recognition in the examination syllabus. I have promised the continuing support of the National Bee Unit in this work". Full article from the BBKA website URL: http://www.bbka.org.uk/news/news/bbka/statement_lord_bach.shtml
AUSTRALIAN BEEKEEPING UNDER THREAT
In this issue we see the first piece of publicity announcing the 2007 Apimondia at a time of great threat to the Australian beekeeping industry as we learn that Australia 's $100 million honey industry is under threat from the Small Hive Beetle.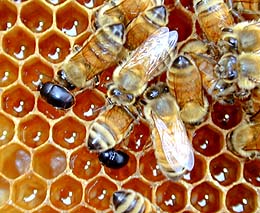 Dr Peter Neumann, an expert on the Small Hive Beetle from the Institute for Zoology at Germany 's Martin Luther University, says Australia is now host to the world's worst infestations of what is known as the small hive beetle (SHB). He said the deadly pest took just seven days to wipe out a healthy bee colony he had set up in western Sydney.
One Australian colony of SHBs contained 2,029 beetles - double what had been previously been recognised as the world record. Dr Neumann has been carrying out field work in Australia and number of other countries as part of his research into the life cycle of the beetle and its impact on honeybee colonies.
Dr Neumann is working with the University of Western Sydney 's (UWS) Centre for Plant and Food Science to study the physiology and reproductive biology of the beetle. "We're getting the worst infestations I've seen anywhere in the world," Dr Neumann said, but so far he has been unable to estimate the full impact on Australia 's native bees.
UWS Research coordinator Debbie Rae says initial attempts to eradicate the beetle - first detected in Australia in 2002 at Richmond, NSW - failed because they quickly spread, ultimately as far away as Brisbane.
The SHB was first found outside Africa in 1996 in the United States and it gradually spread to Canada, North Africa and Europe, becoming a global menace in under a decade. Even so, Dr Rae said very little was known about the beetle's behaviour outside its native region, where it was only regarded a minor pest.
She added that "International collaborations are essential for our understanding of the small hive beetle and an important first step to devising a sustainable control of this invasive pest," Dr Rae said.
(If anyone in Australia knows whether the beetle can affect stingless bee colonies, please let me know. Ed).
APIMONDIA 2007
Information sheet No.1


Melbourne , Australia 9 - 14 September, 2007
This is the first issue of a regular information sheet bringing editors around the world up to date with what is going to happen at Apimondia 2007 being held in Melbourne Australia from 9–14 September 2007. Editors are invited to use any of our material within for their beekeeping magazines, newsletters or websites.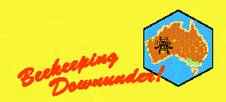 Australia would like to congratulate Ireland on hosting such a friendly and successful Apimondia. It is our aim to be better than Dublin and make 2007 a memorable occasion for the world's beekeepers. We have preliminary information on our website www.apimondia2007.com. If Editors have specific questions, please feel free to submit them and I will provide an answer for you.
After the success of the World Honey Show in Ireland, Australia has decided to hold another World Honey Show. Entry details will appear on the website at a later date once all aspects have been finalised.
Australians are renowned the world over for our ability to be able to work our bees for 12 months of the year in some parts of Australia. Maybe you know a beekeeper here in Australia that you have corresponded with for many years. Apimondia presents you with an excellent opportunity to come and meet these beekeepers while at the same time meeting beekeepers from all over the world. So mark Apimondia 2007 in Melbourne Australia in your diary and come and have a great time. Contact: Trevor Weatherhead (Organising Committee) queenbee @ gil.com.au
ADULTERATED HONEY IN THE UK
In another case where the purity and origin of honey is put in doubt in the public's mind, the discovery of veterinary medicine residues in a UK brand of honey has again underlined the potential threat posed by counterfeit products. Distributor Morris & Sons is removing Natural Choice Brand Pure Clear Honey from supermarket shelves after elements of chloramphenicol and sulphonamide were detected. The Food Standards Agency (FSA) reported that the honey was adulterated with invert syrup, and is said to have an odd taste. As such, the FSA considers the honey to be a counterfeit product. This underlines a worrying trend. The amount of fake food and drinks entering the EU grew by 200 per cent last year. By comparison the average growth of all faked goods, including cigarettes, cosmetics, clothes, toys, grew by 12 per cent. Counterfeiting and tampering can undermine consumers trust in the quality and safety of a branded food product, leading to a loss in market share. And, as in this case, can pose a potential threat to health. Both chloramphenicol and sulphonamide are illegal. Chloramphenicol, which it is thought could cause cancer, can also lead to aplastic anaemia in susceptible people. Exposure to chloramphenicol in food in any quantity is undesirable, but the level of risk will depend on how much is consumed and how frequently. Chloramphenicol has been banned in Europe for use on animals since 1994 and it is illegal for it to be in honey. The presence of sulphonamide in honey is also illegal. The FSA has now issued a Food Alert for Action, giving details of the affected product. The brand of honey is packaged in a glass jar with a gold screw top lid. On the front of the jar is a label, which is yellow in colour with a honeycomb effect background. The words 'Natural Choice' are in black lettering at the top of the label, beneath this are the words 'Pure Clear Honey' in blue lettering and then in small case are the words 'A delicate blend of the worlds finest honey'. (About 4.4 million items of foodstuff, drinks and alcoholic items were seized in the EU last year. The total represents four per cent of the total counterfeit items seized in the EU last year. China accounted for most of the total faked goods seized last year. In terms of origin, Russia accounted for about 13 per cent of the fakes in foods and drinks. The Ukraine accounted for another 13 per cent, the Dominican Republic nine per cent, Nigeria nine per cent, the US six per cent, Hungary four per cent and Argentina four per cent).
NORFOLK HONEY SCAM
The jars of Norfolk honey, with their labels showing a colourful rustic scene and even the name of the producer, may have looked every inch the genuine article. But they contained an "adulterated" mix of cheaper honey from elsewhere, including Argentina and China, which was unwittingly sold by dozens of small businesses across the county, King's Lynn Crown Court heard today.
Prosecution counsel Miles Bennett said in a "deliberate and dishonest scam," husband and wife William and Lynn Baker supplied customers with 17.7 tonnes of the falsely-named product between January 2001 and September 2003. Sales on 'honey runs' around greengrocers, butchers, post offices and other traders in Norfolk during that time had totalled nearly £70,000.
Their actions had only come to light when a beekeeper became suspicious and Norfolk County Council's trading standards department was alerted.
William Baker, 58, and Lynn Baker, 54, of Bury St Edmunds, have both pleaded not guilty to 12 counts of making a false description of food and 12 of obtaining property by deception.
Opening the prosecution case on 22 Nov, Mr Bennett said the charges related to transactions with customers on 12 days when the Bakers had visited Norfolk.
These represented a specimen of the deals made during any given day, while the 12 days singled out were specimens of the 'honey runs' taken in the investigation period.
Mr Bennett told the jury the counts involved the sale of honey to businesses in Old Buckenham, Cromer, Wells, Cawston, Dickleburgh, Bressingham, Hoveton, Ashwellthorpe, Ludham, Sheringham, Coltishall and Harleston.
"Unwittingly, all the people who sold this honey were themselves committing offences," he said. "It put retailers at risk of prosecution and it undercut the genuine producers. The prosecution say these retailers, be it a post office or butcher's, would not have paid any money at all for this honey if the Bakers had indicated it had been mixed."
Mr Bennett said trading standards officers began their inquiries after a beekeeper noticed the large volume of honey for sale which had apparently been produced by 'Smith' of Norwich - a producer he did not know.
During a search of the Bakers' home, the investigation team found "tub upon tub" of Argentinian honey, as well as buckets, boxes, jars and labels. Their "meticulous" records showed in 2001 they had sold 4.4 tonnes of ' Norfolk ' honey and bought 2.9 tonnes of Chinese honey and 3.5 tonnes of honey from elsewhere in England.
The following year they had sold 8.5 tonnes and bought 5.8 tonnes from Argentina and three tonnes of English honey, with a further five tonnes of Argentinian honey purchased in 2003, when they sold 4.8 tonnes of their own product. Entries in diaries referred to mixing and 'Chin' and 'Arg' honey.
Mr Bennett said tests on all but one sample of the honey seized revealed pollens which could not have originated in the UK - let alone Norfolk.
While it was accepted the Bakers had kept their own bees, they had none in Norfolk and could not have produced the amounts of honey in question. "In short, it was a scam and a quite deliberate and dishonest scam," Mr Bennett said. "What it said on the label about it being Norfolk honey was simply false. "This was a cottage industry on a rather larger scale."
For further information on determining honey types by pollen analysis, refer to Rex Sawyer's book 'Honey Identification'. A new CD ROM is now available to go with this book and details of this have been announced elsewhere in this issue. Ed.
THE NEW ZEALAND COMMERCE COMMISSION (COMCOM) FINES TRADER OVER HONEY LABELLING
And it happens in New Zealand too. Manuka honey is unique to New Zealand and its rarity and value make it a target for rogue dealings. Manuka honey antibiotic honey (non peroxide activity) is measured in UMF or Unique Manuka Factor. The higher the factor or number, the more valuable the honey. UMF or Active Manuka Honey sells at a premium over ordinary Manuka Honey and can be up to 10 times the normal retail value of ordinary honey. It is used in a number of medical applications, particularly the treatment of wounds and ulcers.
Comcom said Tomorrow Dream Line Limited and Mr Jonathan Ken (also known as Sang Rae Kim) have been fined $15,400 for labelling and supplying Dream Line Souvenirs UMF20+ honey to a shop in Rotorua when Mr Ken knew the product was in fact ordinary honey.
Earlier this year, the parties were convicted and fined $20,000 for the company and $15,000 for Mr Ken for a similar offense. The second round of charges flow from further false labelling that occurred during the period Tomorrow Dream Line and Mr Ken were being prosecuted, but which did not come to light until after guilty pleas were entered.
The Commission had four samples of the honey independently tested, to compare the results with the representations of UMF activity levels made on the labels. The test results from the laboratory showed "non-detectable" levels of UMF activity in the honey samples.
"This is a particularly callous example of a trader taking advantage of both New Zealand consumers and tourists, who could not possibly know that the expensive honey they were purchasing was not in fact active manuka honey", fair trading director Deborah Battell said. "Traders should be assured – the commission will exercise the full extent of its powers to test whether claims made about products are truthful."
According to the commission, an average of 120 tonnes of UMF or Active Manuka Honey is sold annually and the Active Manuka Honey Association has estimated that the UMF branding is worth $12 million annually. Honey exports exceeded $23 million in 2004 and bees and bee products earned another $3.7 million.
HIGH TECH BUTTERFLIES
This short article has nothing to do with bees but is an excellent example of flying insect evolution which may be of interest to beekeepers interested in the wider subject of insects generally. In this modern world many of us are increasingly left behind by new and ever more complex high tech devices in our homes, but it may come as a surprise to learn that it's all old hat to some insect societies. For instance, the brilliant colours of a butterfly's wings are generated in the same way that high definition pictures of the newest plasma screen TVs.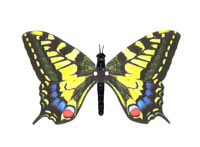 A study of the microscopic properties of the African Swallowtail butterfly's wing has found that for 30 million years these butterflies have manipulated light beams in ways that would baffle even the abilities of the best electronic engineers.
The wings are coated with an ultra thin layer of molecules that form microscopic airspaces where florescent pigments absorb ultra violet light and re emit it as vivid patches of blues and greens. The air spaces have a complex of multi layered mirrors at the bottom to force light out through the top surface of the wings. Even more astonishing is the fact that the air spaces are arranged in such a precise and uniform manner that light cannot escape in any other direction thus ensuring that the colours are clear and bright.
In the paper published in the journal 'Science' the researcher Dr Peter Vukusic of Exeter University in the UK says that in effect, the butterfly has invented a biological version of the light emitting diode (LED)many millions of years before their human counterparts. An LED is essentially a device designed to emit light efficiently from where it is generated and the function of the microscales (the air pockets) is identical to that of an LED.
INDIAN HONEY WORRIES
Chinese honey exports, varroa and lack of research facilities have added to Indian honey production woes. Now that the European Union (EU) has lifted the ban on importing honey from China , Indian honey exports have fallen dramatically this year. The honey exports, which fetched around Rs 200 crore in foreign currency in the fiscal 2002-03, is likely to tumble to Rs 100 crore this fiscal, trade sources said. India produces a total of 70,000 tonnes of honey every year, of which 25,000-27,000 tonnes are being exported to more than 42 countries including the EU, the Middle East and the US.

The EU has slapped a ban on Chinese honey three years ago after it was found that Chinese honey contained high levels of antibiotics 'Chloramphenicol'. The chemical was used to control disease in honeybees, but on the other hand it created side-effects on the consumers, causing dreaded diseases like cancer. However, the ban was lifted after China agreed to reduce the level of Chloramphenicol in honey bee treatment last year.
Randeep Singh, executive director of Kashmir Apiaries Exports said India 's major honey importers were European countries. After the EU imposed the ban on Chinese honey, the price of the Indian honey exported to European countries jumped to $2,800 per tonne in 2003. But the export price declined to $1,400 per tonne in 2004, when the EU lifted ban on China , and further tumbled to $800 per tonne in the current year when China started exporting honey to EU on a large scale.
Meanwhile, the varroa menace is also threatening the Indian honey industry, according to Prof LR Verma, president of IBKC and vice-chancellor of Himachal Pradesh University. As per a rough estimate, Mr Verma said more than one million bee colonies are identified in the country but varroa has destroyed 20-25% of bee colonies in the country. "There is market potential to keep more than 10 million bee colonies in India. But processing technologies and maintaining styles of bee colonies must improve to increase the productivity," he said. Currently, only a few private agencies and universities are conducting research on bee-keeping techniques. However, IBKC has requested the Karnataka government to allot land in Bangalore to establish an international centre for bee-keeping research and development, which is first of its kind in the country. Once the international standard research centre was set up, the Indian honey industry would be able to compete with China in international honey market, he pointed out.
RESEARCH NEWS Back to top
TINY BEE BRAIN SOLVES PUZZLES THAT MODERN COMPUTERS CANNOT
Bees have a much more sophisticated visual system than previously thought, according to a new UCL (University College London) study in which bees were able to solve complicated colour puzzles. The findings shed light on how brains resolve one of the most difficult challenges of vision – namely, recognizing different surfaces under different colours of illumination – by suggesting that bees solve this problem using their experience with meaningful colour relationships between objects in a scene. The findings, published in the Proceedings of the National Academy of Sciences, may one day lead to the design of autonomous robotic systems.
In the UCL study, scientists from the UCL Institute of Ophthalmology trained bumblebees to find artificial flowers of a particular colour using a nectar reward. They then tested the bees' ability to find the same flowers in scenes that were simultaneously illuminated by four differently coloured lights – UV-yellow, blue, yellow and green. To solve this puzzle, the bees had to effectively segment the scene into its different regions of illumination, and then find the correct flowers within each region. Dr Beau Lotto of the UCL Institute of Ophthalmology says: "Although we knew that bees were able to recognise flowers under different global lights, we didn't know whether they could also do this under more complicated conditions, ones that are in fact more typical in nature, such as dappled light across a woodland floor. "When all the surfaces in a scene are under the same light, identifying a particular surface when the global illumination changes is in principle an easy problem to solve, since all vision needs to do is adapt itself to the scene's average colour, a bit like adapting to the darkness of a cinema. Far more difficult is to recognise the surface or object under multiple lights simultaneously, since adapting to the scene's average colour – which was previously thought to be the strategy used by bees – won't work."
"Our study shows that the tiny brain of the bee can not only solve this difficult task, which the most sophisticated computers still can't resolve, but suggests they do so by using the colour relationships between objects in a scene that was statistically most useful in their past experience. Because this same strategy is also used by humans, our work on bees, in conjunction with our work on humans, may enable us to understand the general principles by which any visual system (natural or artificial) can construct useful behaviour from ambiguous sensory information.
"One long-term aim of our research is to exploit this understanding to build seeing robots that, like the bee with its mere one million neurons, can learn to find a simple flower in a meadow, which no machine can do at present. Our lab has reconstructed our specially designed bee flight arena – known as the Bee Matrix – in the virtual world, where virtual autonomous bees are 'evolving' under exactly the same conditions as those experienced by our real bees." This story has been adapted from a news release issued by University College London.
SHORT TERM MEMORY RESEARCH LEARNS FROM HONEY BEES
A Team led by Carnegie Mellon University scientists in the USA has found the first evidence of a living memory trace. Results show neural reorganization occurs during short-term memory and supports a 55 year old theory.
An international team of scientists for the first time has detected a memory trace in a living animal after it has encountered a single, new stimulus. The research, done with honeybees sensing new odors, allows neuroscientists to peer within the living brain and explore short-term memory as never before, according to scientist Roberto Fernández Galán, a leading author on the report who is currently a postdoctoral research associate at Carnegie Mellon University.
Capturing these memory traces could ultimately provide a completely new way to understand how short-term memory works, stated Galán. The findings are scheduled for January publication in Neural Computation. "Our findings show that an odor produces a memory trace of synchronized neural activity that lasts several minutes after a bee initially senses it," said Galán. "This is the first time anyone has revealed a short-term, stimulus-specific neural pulse within the living brain that occurs after exposure to a previously unknown stimulus."
"Future investigations along the lines of our study may reveal previously overlooked memory traces in many other neural systems," said C. Giovanni Galizia, Galán's primary collaborator, who is now a professor at Konstanz Universität in Konstanz, Germany.
Galán performed the work as part of his dissertation research while in the research group of Andreas Herz at the Humboldt University in Berlin, Germany.
The report supports Hebb's theory of learning, a 55-year-old proposition that "neurons that fire together wire together," thereby strengthening their connections. According to the theory, a stimulus activates some neurons while inhibiting others. Once this stimulus is removed, traces of that excitation/inhibition pattern – so-called Hebbian reverberations – should remain.
"We are the first to observe this phenomenon at the network level. We are also the first to detect a distinct signature, not only of a sensory short-term memory, but one that developed after a single exposure to a previously unknown stimulus, so that there is no context," said Galán. "All previous studies in this field have observed only a sustained, non-specific increase in neural activity after a living animal is repeatedly exposed to a stimulus. These investigations haven't retrieved a signature of a stimulus, whereas we have."
The experiments were performed in the laboratory of Randolf Menzel, whose pioneering observational experiments in the 1970s and 1980s showed that honeybees exposed to an odor and rewarded with sugar could develop a memory of that odor and temporarily store it as "working memory." They also found that honeybees lost their working memory of a re-enforced odor if they were cooled down and then revived, suggesting that the memory wasn't permanently stored.
This latest study is the first to combine fluorescent dye imaging developed by Galizia, and advanced image processing and mathematical data analysis developed by Galán to actually detect a working memory trace.
In the current research, the scientists studied clusters of neurons called glomeruli within the honeybee's antennal lobe (AL), considered the invertebrate equivalent of the brain's olfactory bulb. Team member Marcel Weidert placed fluorescent probes within different glomeruli, and imaged their activity using dyes sensitive to the opening and closing of calcium channels on neurons. The scientists created an imaging grid across the glomeruli and measured the ratio of fluorescence versus nonfluorescence over time.
Galán then used advanced mathematical techniques to process the images and create a matrix of the extent (or amplitude) of neuronal excitation and inhibition within glomeruli. He retrieved a spatial pattern of synchronized, correlated activity – the memory trace – from what appeared to be random fluctuations of neural activity. "The trace is like a fingerprint that disappears over time. It's strongest after the honeybee's initial exposure to an odor, but you can still detect its signature features minutes afterwards," said Galán.
A future question that could be addressed using this research is addressing how short-term memory gets encoded as long-term memory over time, said Galán.
THE FISH AND THE BEES
In this remarkable piece of research, scientists from the Washington University in St Louis show us that seemingly non linked relationships can have a huge effect on the understanding of ecosystems and even how we as beekeepers can affect our surroundings for the better.
Fish and flowering plants would seem to have as much in common as pigs and beauty soap. But ecologists at Washington University in St. Louis and the University of Florida have found an amazing relationship between the different species that provides a new direction for understanding how ecosystems "hook up." A team of researchers, headed by Tiffany Knight, Ph.D., Washington University assistant professor of biology in Arts & Sciences, has shown a correlation between the presence of fish in ponds and well-pollinated St. John's wort (Hypericum fasciculatum, Hypericaceae) at a Florida research station.
The team checked out eight ponds at a University of Florida preserve, four containing fish, the other four fish-free. They found that shoreline St. John's wort plants near the fish ponds were far better pollinated than those near the fish-free ponds. The reason? Fish reduce, if not decimate, dragonfly populations when they start their lives in the ponds as larvae. Those dragonflies that can escape the fish grow up to live outside the water environment where their major prey are bees, moths and flies, which live in a synergistic state with the flowering plants - what ecologists call "mutualism." A bee, for instance, gets nourishment from a flowering plant, and the plant is able to reproduce because of the bee's attention; thus, both species benefit mutually.

Novel find
"This cross-ecosytem linkage is a novel find," said Knight. "We've shown that species interactions can reverberate across two different ecosystems and have major implications for the food web and species' survival.
"The work is different from most trophic cascade - food web - studies in that it incorporates mutualism instead of focusing strictly on predator-prey relationships. Taking a complex life history into account also presents new insights into ecological processes."
A dragonfly's life history is complex, Knight explained, in that, like an amphibian, it occupies two different habitats during its life, thus becoming a conduit between one habitat, the pond, and another, the landscape near a pond.

The results were published in the Oct. 6, 2005 issue of the journal Nature. "The study illustrates how spatial mobility can lead to surprisingly strong couplings among disparate habitats in complex landscapes," said Robert D. Holt, professor of biology at the University of Florida and a study co-author. "A recognition of this fact opens up fresh questions that need to be considered by both basic ecologists and natural resource managers."
Not only did the team observe more pollinators in landscapes next to ponds with fish, they also saw differences in the kinds of pollinator species . Most visitors near ponds with fish were hymenopterans, -- for the most part, bees -- compared with most visitors at the fish-free ponds, mainly flies. Hypericaceae have evolved traits that attract bees, and so bees may be better pollinators of Hypericum than flies. The effect of reduced pollinator visits near fish-free ponds might be magnified, Knight said, in part because the few visits pollinators made to the area were from flies and moths, rather than bees.
The researchers made sure that the vegetation structures of each pond were similar. And they also experimented with another flowering plant, Sagittaria latifolia, and came up with similar results to what they found with Hypericaceae.
The researchers also found that pollinators tend to avoid fish-free ponds because of the presence of dragonflies. Likewise, there is evidence that dragonflies avoid laying eggs in ponds with fish.
Knight noted that many organisms, for instance, salamanders, with terrestrial life stages also are key aquatic predators, so the reverse - a cascade from terrestrial to aquatic ecosystem - also is true. "This finding will open up many opportunities to examine interactions across ecosystem boundaries," she said. For one, getting grips on cross-ecosystem "habitat" connectance could be a key component of gauging the effects of human encroachments on nature. Stocking ponds with fish is universal, whether for a fishing hole or to reduce pests, but now urban and rural landscapers and developers can realize that the fish have a wider impact than their original purpose.
Freshwater fish introductions have the potential to alter competitive relationships among terrestrial plants, hampering the competitiveness of non-insect pollinated plants. Wetland destruction impacts dragonfly populations along with terrestrial plants. Polluted ponds and those that dry up at certain times of the year and those suffering from an excess of certain nutrients - a condition called eutrophication - all can harm fish abundances and insect-pollinated plants. "Consumer flows across radically disparate ecosystems can affect landscape-level processes and drive local species interactions," the authors conclude.
TRAINED WASPS MAY BE USED TO DETECT BOMBS, BUGS, BODIES AND MORE
In the last issue of Apis-UK, we learned of a device that held captive bees and was used for detecting terrorist weapons and similarly in the past we have read of numerous uses of honey bees to detect pollution, explosives and chemical weapons. Now it is the turn of wasps that are also held captive whilst carrying out their task.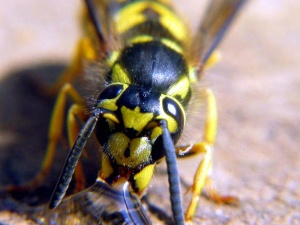 An unusual device that uses trained wasps, rather than trained dogs, to detect specific chemical odors could one day be used to find hidden explosives, plant diseases, illegal drugs, cancer and even buried bodies, according to a joint study by researchers at the University of Georgia and U.S. Department of Agriculture.
The trained wasps are contained in a cup-sized device, called a "Wasp Hound," that is capable of sounding an alarm or triggering a visual signal, such as a flashing light, when the insects encounter a target odor. The sensor is cheaper to use than trained dogs and more sensitive than some sophisticated chemical detection methods, including electronic noses, the researchers say. Their experimental device is described in a study slated to be published in the Jan.-Feb. issue of Biotechnology Progress, a joint publication of the American Chemical Society and the American Institute of Chemical Engineers.
The idea of using unconventional biological sensors to detect target odors is not new, according to study leaders Glen C. Rains, Ph.D., a biological engineer with the University of Georgia in Tifton, Ga., and W. Joe Lewis, Ph.D., a research entomologist with the USDA's Agricultural Research Service, also in Tifton. Rats, honeybees, fish and even yeasts have all been used experimentally to detect various explosives or toxins, they say.
"We've now developed a prototype device that puts the idea of using chemical-sensing wasps into a practical framework and its possibilities are astounding," says Rains, who believes that the device could be ready for commercialization in five to ten years. Like batteries in a smoke detector, the trained wasps won't live forever and will eventually have to be replaced, he says.

In the current study, the researchers used Microplitis croceipes, a species of tiny parasitic wasps that can be trained to detect certain odors by associating the odors with a food reward. The wasps are not capable of stinging humans, the scientists say. Training a single wasp to detect a target odor can take as little as five minutes and the insects can be easily bred by the thousands, they say.
The research team developed a special ventilated device, composed of PVC pipe, which holds a small cartridge containing five trained wasps. The wasps were trained to detect 3-octanone, a chemical produced by certain toxic fungi that infect corn and peanut crops. The presence of the fungi can result in costly crop losses.
The Wasp Hound contains a tiny camera that is linked to a computer to record the movement of the wasps. In a controlled test, the device was exposed to batches of dried feed corn containing either the target chemical, myrcene (a compound of neutral interest to the wasps) or corn alone. In comparison to a group of untrained wasps, the trained wasps showed significantly stronger behavioral responses to the target odor than to the myrcene and control treatments.
Responses include moving toward the target odor source and congregating around the device's odor inlet. This movement can be translated into an alarm signal to indicate the presence of a toxic plant fungus, the scientists say.
Besides detecting plant diseases, the device has a wide variety of other potential applications. In previous studies, the researchers demonstrated that they also could train the wasps to detect 2,4-dinitrotoluene (2,4-DNT), a chemical used in certain explosives. The wasps can also be used to detect chemical odors that are associated with certain human diseases, including lung cancer, skin cancer and stomach ulcers, they say. More recently, their group has been looking into the possibility of using the wasps to detect odors associated with hidden bodies, from murder victims to victims of disasters.
The other collaborator in this study was student Samuel L. Utley, M.S., currently a research engineer with the University of Georgia. The study was funded by the university and by the USDA. The researchers have filed a patent application for the Wasp Hound. The American Chemical Society is a nonprofit organization, chartered by the U.S. Congress, with a multidisciplinary membership of more than 158,000 chemists and chemical engineers. It publishes numerous scientific journals and databases, convenes major research conferences and provides educational, science policy and career programs in chemistry. Its main offices are in Washington, D.C., and Columbus, Ohio.
This story has been adapted from a news release issued by American Chemical Society.
THE BUMBLEBEEFLIGHT CONTROVERSY
There have been many theories put forward about bumble bee flight, mostly in bars, but few really know the truth of the matter, but that should soon all end. It looks like they can fly. The flight of the bumblebee is not only an impressive musical piece but also a complex biophysical phenomenon. Since French entomologist August Magnan broke the news in 1934 that, according to aerodynamic laws, bumblebees should not be able to fly, people have used science's inability to account for the reality of bee flight as a classic example of its shortcomings.
Now, a professor of bioengineering in the USA, Michael Dickinson says his lab has used high-tech tools to disprove an old theory about insect flight. Dickinson hopes that his bee study - using common honeybees, or apis mellifera, rather than bumblebees – in the Nov. 28 issue of the Proceedings of the National Academy of Sciences will put an end to that.
Using high-speed digital videos that capture 6,000 frames per second, Dickinson's crew was able to watch, with the luxury of freeze frame, the movements that keep a honeybee aloft. From there, the team used the third version of a giant robotic insect built in the Dickinson lab to test out what they had observed. Their "Bride of Robofly," was submerged in mineral oil, where researchers used green lasers to trace patterns of "airflow" around it and get measurements they could never have made on a real insect.
As it turns out, Dickinson and his colleagues found, honeybees beat their little wings incredibly quickly, using choppy strokes and quick rotations. "These are really the most successful animals in the history of life," Dickinson said. "To me, figuring out how insects work is a pretty important part of figuring out the history of biological life on the planet."
It is becoming increasingly common for engineers and physical scientists to look to nature and biology as a tutor for complex systems.
THE BEE PRESS Back to top
BEECRAFT
Beecraft November 2005 Volume 87 Number 11
Claire Waring Editor. www.bee-craft.com
Beecraft Subscriptions http://www.bee-craft.com/shop/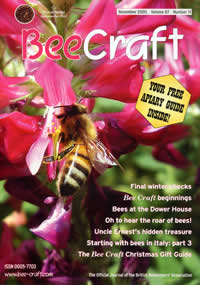 Contents: Bee Craft beginnings The Board of Bee Craft Ltd; A year in the apiary: final winter checks David Aston, PhD, NDB; Your FREE gift; Starting with bees in Italy: part 3 Pam Felli-Todd; Oh to hear the roar of bees! Mo Vaughan; The Bee Craft Christmas Gift Guide and Draw for a copy of 'An Introduction to Beekeeping' from Second Sight Productions; Uncle Ernest's hidden treasure Karl Showler; Bees at the Dower House Martin Smith; Obituaries: Roy Page. Daniel Joseph Deasy; Letters to the Editor; The 'B' Kids; Around the colony; Classified advertisements.

Editorial: Happy Christmas! Yes, I know it's still a few weeks away but time rushes on and Bee Craft would like to give you an early Christmas present. Subscribers will find the third of our bee disease recognition Apiary Guides in this issue (see page 11). It covers Minor Brood Diseases – Chalkbrood, Sac Brood, Bald Brood and a Drone-Laying Queen. I know the last is not a disease as such but it will have a deadly effect on your colony if you don't remedy the situation.

Our Guides are all designed to help you make your own diagnosis. This will become more and more important as resources at the National Bee Unit are likely to be reduced. We must all become more aware of disease symptoms. Then, when we inspect our own colonies we will know if all is well or whether our bees need treatment, either medicinal or using management techniques.

Many subscriptions expire at the end of December, so make sure that you renew yours in time. Then you will receive the last of our four FREE Apiary Guides in the February 2006 issue. This will cover Small Hive Beetle and Tropilaelaps spp. – neither yet present in the UK as far as we know, but forewarned is forearmed!

Are you stuck for ideas for that special present for your beekeeping partner or friend? Check out our Christmas Gift Guide (page 16) for some great ideas.

Finally, I would like to pay tribute to Roy Page and Dan Deasy who have died recently. I knew them both and am aware of the great contribution they made to beekeeping in so many different ways. They will be greatly missed. Claire Waring

THE BEEKEEPES QUARTERLY
incorporating BeeBiz. No.82 November 2005 (A4 56 Pages)
Editor: John Phipps. www.beedata.com/bbq.htm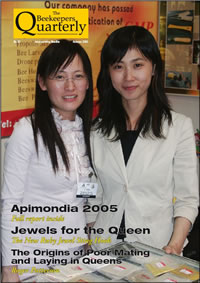 Contents: EDITORIAL Apimondia, Marie Celeste hives, screen floors and polystyrene hives.
LETTERS TO THE EDITOR The National Honey Show 2005, David Smart; Formic Acid and Health, Bill Ruzicka; Problems with Queens, Roger Patterson; Disappearing Bees Syndrome, Eric McArthur; & Queen Pheromones, Peter Tomkins. NEWSROUND Association News: The Future of IBRA, Richard Jones, Director; Bee Farmers' Association - Southern Meeting, John Howat; National Diploma in Beekeeping - New Website, Geoff Hopkinson, NDB. Honey: Life is sweet for honey farmers as sales soar, Martin Hickman; Moldova to acquire new honey lab with EU funds; Comcom fines trader over honey labelling; Brand of honey recalled in UK. Research: New lab for bee research at Illinois University; BDI to fund Rothamsted project; Bee breeding centre to open for Carniolan bee; APIMONDIA 2005 Reflections - Philip McCabe and Geoff Manning And the next Apimondia: Australia - Terry Ryan. Trade Stands; Demonstrations and Exhibitions; World Honey and Wax Show; Out and About in Dublin; The Honey Queen Programme (with presentations by Ceri Cellingborn, Sarah Kornfield and Claire Kehoe); John Phipps. ENVIRONMENT Mystic honey, Young Professional Upwardly-Mobile Female Hobby Beekeepers, Gallic Wasps, Green Energy, Spray-Free Buffer Zones to Safeguard Health and Benefit Bees, What's good for the grouse is good for the bees, & Dublin 2005. Geoff Hopkinson NDB. HERE THEY COME Africanised bees spread further into southern and eastern states Ann Harman, USA SCIENCE REVIEW Notes from Apimondia Scientific Programme, Part 1, - David Aston NDB. Vita launches new honeybee health research award at Apimondia; Combatting chalkbrood: Apimondia Abstract - Alexandros Papachristoforou. THE ORIGINS OF POOR MATING AND LAYING IN QUEENS Roger Patterson, UK. QUITE A BUSINESS More business news from down under, featuring Comvita Ltd. David Cramp, New Zealand. REARING OSMIA BEES IN UKRAINE For business or pleasure, solitary bees are showing their worth as valauble pollinators Dr Komissar Alexander, Ukraine. JEWELS FOR THE QUEEN The New Ruby Jewel Sting Hook for II of Queen Bees Susan W Cobey, USA. A BEE-FEEDING INNOVATION IN NEPAL Bhim Suwal, Nepal. CORRESPONDENTS: A fantastic bee season, Job Pichon, Brittany. Island bee race comparison project, Ko Zoet, The Netherlands. Lack of openness in the honey market, Dr Maciej Winiarski, Poland. The English season, Dr Nigel Payne, UK. Small cell test, 2002-2004, Roger White, Cyprus. BREEDING MATTERS. Polyandry, Island Mating Stations, 'Beekeeping and conserving biodiversity of the honeybee', John Pollard, & the reproductive organs of the drone. John Atkinson NDB. BOOKSHELF. Beekeeping and conserving biodiversity of honeybees- Sustainable bee breeding- Theoretical and Practical Guide. (2005) ed. Marco Lodesani and Cecilia Costa. Honey and Dust. Travels in Search of Sweetness, Piers Moore Ede. The Backyard Beekeeper, Kim Flottum. OBITUARIES Mr Dan J Deasey. Dr Edward Allan Calder. Cover picture: Chinese trade stand at Apimondia which offered a large range of hive products, including powdered drone pupae (photo John Phipps).
NEW CDROM Back to top
Pollen Identification for Beekeepers. An Illustrated Key to accompany Rex Sawyer's Book.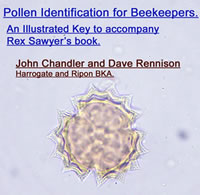 Acknowledgments
We are indebted to a number of people who contributed in various ways to this work, indeed without the generous assistance we have received, completion would have been very difficult.
Our thanks are due to the BBKA who made the Rex Sawyer collection of micro slides available to us and where these have been used the micrograph has been labeled 'RS coll'. Dr William Kirk of Keele University made available his expertise and collection of micro slides as did Dr Jane Bunting of Hull University . Thanks are also due to Dr David Aston for his valuable advice, John Annett for his sterling work checking the list of plant species, Anne Spencer and a number of members of Harrogate and Ripon Beekeepers' Association who loaned their micro slides, Mr. Yousef Sulliman of Kuwait and Mr. Les Wells of Harrogate High School who contributed initial technical advice.
We would like to thank Professor Robert Pickard for allowing us to use Rex Sawyer's data base for the core of this CD ROM.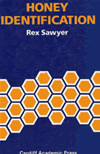 It was in fact Rex Sawyer's book which was the inspiration for this work and who in his Pollen Identification For Beekeepers published several decades ago, mentioned the likely use of computer technology for this purpose. As beekeepers we all owe a debt of gratitude to Rex. Originally the book was published with a set of punched cards. It is unlikely that these cards will be reprinted, hence our interest in replacing them with computer technology.
Technical. We used a Nikon 'coolpix' 5000 digital camera and a Nikon microscope to photograph the micro slides. All the photographs except one were taken using a x40 lens – the sort of magnification that most beekeeping microscopists would use. Some slides in the Sawyer collection at the BBKA are on their 'last legs' and will be of little use after a few more years. Some of the slides in the Hull collection were prepared for use by archeologists – hence their lack of contents.
Pollen sizes are given in micrometers ( m m). (1 micrometer equals 1 thousandth of a millimeter.) These figures are given as a rough guide only as the staining and other processes can cause a change in shape or size of the pollen. Colour is mainly due to the stain that was applied but in some cases, where the pollen grains required greater definition, then digital enhancement has been employed.
We hope you enjoy our collection of photos and find the spreadsheet a useful aid in identifying pollen.

Instructions For Use
This disc will run with Windows '95, '98, 2000 and XP. It will also open on Apple-Mac. You need Microsoft Excel or equivalent to run the spreadsheet. The disc was prepared using 'Windows XP'. Depending on your computer the disc may open automatically or you may need to go to 'my computer' and open the disc from that location (Drive D) Double click on 'CD Pollen 2005'
Then double click on 'Pollen-Sawyer's Spreadsheet"
By using 'AutoFilter' it is possible to gradually refine your search until you are down to a few possibilities.
Click on the highlighted hyperlink to display a photo of that particular pollen.
Using AutoFilter. Click in the top left cell of the work sheet and this will highlight the whole sheet.
Go to Data in the menu, Filter, AutoFilter (click).
On the down arrows click the column(s) that you have data for (e.g. Size). Pick one of the options and the programme will sort the data for you. Go to a second column and sort on different parameters.
Once you have narrowed the field make a note of the possibilities and return to the main spreadsheet by selecting Data, Filter, AutoFilter and click the switch off.
Check your pollen samples against the hyperlinked pictures or with Sawyer's photographs in the book.
John Chandler and Dave Rennison Autumn 2005.
(CDROM requires a computer and Microsoft Excel or equivalent)
Now available from Northern Bee Books @ £16.00 inc's UKPP (CDROM). Visit the NBB online store from the URL: http://www.beedata.com/nbb/pollen_identification_cd.htm
BEE BOOKS

The Beekeepers Annual 2006
The Annual, comprising of a beekeeping directory, diary and many articles, is firmly established as the only authoritative, up-to-date source of information concerning beekeeping in the British Isles. Not only is it required reading and an essential reference book, but it also makes an excellent gift for all beekeeping relatives and friends. Published 15th December. Editor John Phipps. Price: £9.75 inc UKPP Visit the NBB online store from the URL: http://www.beedata.com/nbb/beekeepers_annual_2006.htm
BOOK REVIEW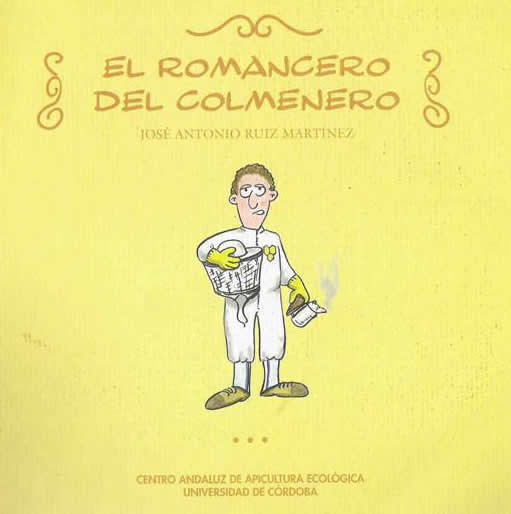 It is rare that we feature a book in any other language than English but this month we bring you news of a book designed to return laughter to the craft of beekeeping. It is in Spanish and is written and published by CAAPE, the Andalusian Centre for Organic Beekeeping at the University of Cordoba. Jose Antonio Ruiz Martinez (that's all one person for our English readers) with help from the rest of the research scientists has written that the book is no way an attempt to turn beekeeping to frivolity or irony but to educate and invite reflection not only amongst beekeepers but also among the public at large but making it so that one can see in a good light what could be something less agreeable if no humour were involved. "The smile, has sweetened, like honey, a reality that can at times leave a more bitter taste in the mouth."
Jose also tells us that this work is also something that he hopes will humanise the work of the research scientists at this beekeeping centre in the hope that beekeepers and others will see the scientists as people with values and problems of their own which are often hidden behind impressive sounding research projects, cold methodologies and masses of statistics.
For me it's a brilliant book which puts the problems that we as beekeepers share into perspective. It's a shame it isn't in English, but I know that we have many Spanish speaking readers and I recommend it to them.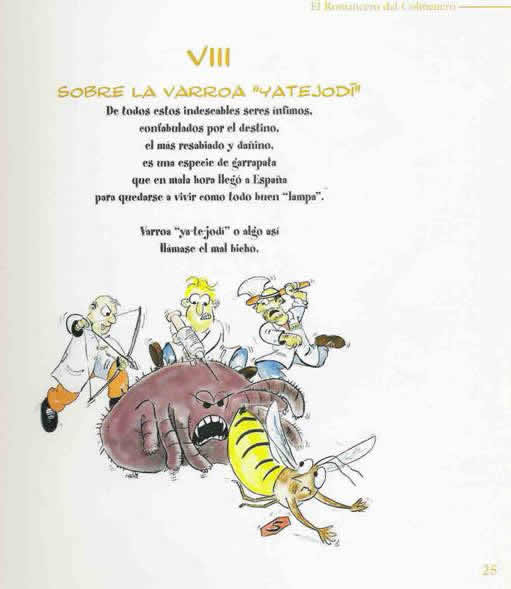 ARTICLES Back to top
Bees and Gravitomagnetism (Part 4 of 4)
Ian Rumsey
To draw a comparison with hives 2-4, 4-4 and 6-4, the compass bearings were superimposed onto the 1-4 photo. It was at this point it became apparent that the alignment was about 20 degrees W of N to 20 degrees E of S. Hive 6-4 was 20 degrees E of N to 20 degrees W of S, which seemed rather odd.
If you compare hive 6-4 and hive 1-4 alignments it may be seen that where as in hive 6-4 the comb was rotated 70 degrees in an anti-clockwise direction, in hive 1-4 the comb is rotated 70 degrees in a clockwise direction.
Photos and Diagram refer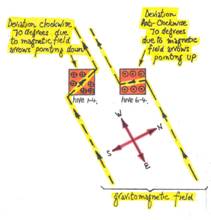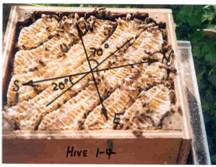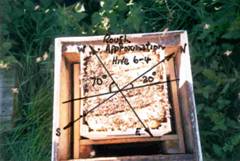 Now is this pure chance?
Perhaps not. The amount of influence the magnet on hive 6-4 would have on hive 1-4, must be very small. The Earth's magnetic field would swamp any kind of measurement a mere beekeeper could achieve with a compass, but nevertheless some field from this magnet must reach hive 1-4 however minute this quantity may be. This being the case the magnetic field at hive 1-4 would be in the opposite direction to that experienced at hive 6-4. Diagram refers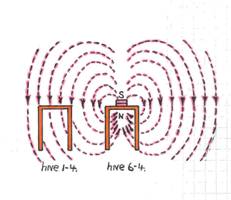 May I suggest that a vertical magnetic field with the field direction arrows pointing up, diverts the comb alignment 70 degrees in an anti-clockwise direction and when this is reversed so that the arrows point downwards the 70 degree deviation is in a clockwise direction.
If this were the case our oncoming gravitomagnetic field may be focussed. Taking into consideration that gravitomagnetic fields warp time and space, this could prove to be rather interesting.
Detailed below are four references from Eva Crane's book 'The World History of Beekeeping and Honey Hunting' which may be associated with our investigations regarding unrecognised forces within the hive.
Quotation 1.
Page 161 Item 20.12. Second paragraph.
(For the bees, a hive or nest cavity must be dark inside, because a swarm initiates comb building only in the dark).
Question - What form of radiation direct from the sun prevents commencement of comb construction?
Quotation 2.
Pages 168-169. Item 20.5
The beekeeper cut out queen cells (before virgin queens emerge from them) early in the morning when the sun was low in the east. He used a piece of metal to reflect the sunlight along the length of the hive, which was always north-south.
Question - What type of radiation is only present at the time of the rising of the sun?
Quotation 3.
Page 170 Item 20.6
In 1956 Woods analysed sounds made by piping queens of European A. mellifera. A rather pure tone was produced: 180 Hz by a queen still in her cell.
Question - Would this radiation from the sun whilst rising encourage queens to pipe?
Quotation 4.
Page 389 Item 38.22 Paragraph 2
Quite separately from the above, some peoples who used horizontal hives were able to adapt them in a certain manner which controlled the direction in which the comb would be built.
Question - Is this evidence that north-south pipes produced east-west comb?
We will conclude by saying that there are other forces at work within the hive over and above those provided by magnetism and gravity. It would appear gravitomagnetism may now be added to this list. All of these forces will no doubt interact upon each other, given the correct medium through which to operate.
Let us creep to the limit of our knowledge, and peep over the edge.
---
BASIC BEE GENETICS PART 4

So far in this introduction to bee genetics we have looked at the theory of the subject. In this part we take a look at what we can do with this information. Can we breed better bees just as farmers improve cows and other livestock for instance? Given the knowledge that we now possess about the subject, the answer to this must be yes. This is an introduction to the subject remember, and kept simple so that the editor can understand it and in this short article we only skim the surface to give you an idea of how bee breeders go about their work. For those interested in pursuing the subject further, there are many books on the subject.

Bee breeders have as their objective the improvement of one or more facets of bee behaviour. Better honey collection, better over-wintering ability, less swarming tendency, better temper and so on. Many of these may be incompatible and so compromises may have to be made, but generally the idea is improvement.

Once the breeding goal has been established by describing the desired stock, the bee breeder must choose his stock from the on-site performance of colonies established in apiaries, then test colonies are given numerical scores for the characteristics being evaluated. This procedure can take 2 years or more and as many colonies as possible should be evaluated. This latter point is one of the most difficult to overcome for the hobbyist with one or two colonies only and it is often equally as difficult for the professional beekeeper with thousands simply because of time constraints.

Once all the colonies have been evaluated, breeder colonies can be chosen. More emphasis can be put on one or another characteristic by adjusting the scores given for that characteristic. For example, honey production may be scored on a scale of 0-20, while temper may be scored on a scale of 0-10. This arrangement would be used if honey production was considered twice as important as temper.

Having assessed your colonies, there are two main methods of breeding your queens and these are line breeding (closed population breeding) and hybrid breeding. Both have merits and either may be preferable depending on which part of the world you live in.

The common method of breeding practiced by queen breeders is known as line-breeding. It can be defined as breeding and selecting within a relatively small closed population. The bee breeders' colonies constitute such a large population to the extent that matings with drones outside their stock do not take place.

Line breeders rear queens from the best colonies, i.e. those that produce the most honey or those that have the best temper or whatever. These queens are both sold as production queens and used to requeen the bee breeder's test colonies. The queens are allowed to mate with the drones present in the bee breeder's outfit at the time the queens are reared.

Control of drone brood in the majority of colonies, coupled with purposeful propagation of drones in a good number of more exceptional colonies, is part and parcel of a line breeders problems but does improve the selection progress by controlling, to a limited degree, the male parentage of the stock. Of course, this procedure is used with the best success in areas where mating yards can be reasonably isolated.

Because it is essentially a fixed population involved some inbreeding is inevitable. Its main effects are fixation of characteristics so rapidly that effectiveness of selection for good qualities is reduced, secondly, the stock loses vigour as a general consequence of inbreeding, and also the beekeeper will immediately see the typically poor brood pattern from homozygous sex alleles. Inbreeding can be kept at a minimum, by rearing queens from as large a number of outstanding queens as possible and re-queen all the field colonies with equal numbers of queens from all the breeders.
But is line breeding worth the effort. Well, in the 1930's, a 4-year selection project using simple line-breeding resulted in an increase in honey production from 148 to 398 pounds per colony. Two important features of this project were culling the poorer queens and grafting from the best queens.

When inbred lines or races of bees are crossed, the hybrid progeny often are superior to either parent for one or many traits. This phenomenon is called hybrid vigour or heterosis about which little except the effects is known. Hybrid bees have more heterozygosity than do inbred or line-bred bees. This heterozygosity is thought to be the basis for hybrid vigour.

Hybrid-breeding programmes in bees are more complicated than line-breeding programmes and involve the use of artificial insemination. At the very least, three inbred lines must be combined so that both queens and their worker daughters are hybrids. According to John Harbo and Thomas Rinderer whose writings provide much information on bee breeding, comparative tests of hybrids have shown their superiority. Increased productivity of 34 to 50 percent over the average of line-bred strains has been reported. The one big problem with this type of improvement is that you have to keep crossing. Hybrids are an end product, and to make best use of them it is necessary to re-queen every year.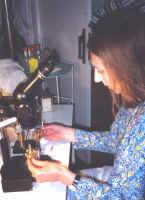 Because of the complexity of this type of breeding programme and because of the requirement for artificial insemination in a serious effort, few bee breeders have undertaken the entire operation of a hybrid programme.
In the next article on basic bee genetics, we take a look at the different races and strains of bees and look also at the way breeders have combined some of the best and the worst and what the results have been.
---
In this item, we see a French update on a problem faced by all beekeepers at one time or another and to my mind it is yet another example of how science seems to fail the general public (and beekeeper) when it could do so much better. I firmly believe that all food and crop scientists whether working for the government or for agrochemical companies should be forced to read Rachel Carson's book 'Silent Spring'. Ed.
FRENCH IMIDACLOPRID BAN UPDATE
French moratorium on the use of Imadacloprid and Fipronil Pesticides: 'Gaucho' (Bayer) and 'Regent' (BASF)
The Honey Harvest improves in several regions
For the first time in a dozen years, the honey-harvest has improved in certain regions of France.
This was reported by the National Union of French Apiculture (UNAF), first union of the craft, which held its autumn conference in Nantes on Friday 7th and Saturday 8th October 2005.
President, Henri Clement, spoke of a "net improvement of the stocks of bees" and of "strong and vigorous colonies". Mr Clement confirms that the honey-harvests have been very good in the South West of France.
The beekeepers' President saw in this momentary calm 'the reward' of their political struggle against the insecticides 'Gaucho' and 'Regent'. The active chemicals (Imidacloprid for 'Gaucho' and Fipronil for 'Regent') are accused by beekeepers of killing bees, affecting their behaviour and decimating apiaries. These insecticides, employed to protect crops against pests, have a systemic action: the insecticide is dusted onto the seeds and releases its active ingredients in the sap, nectar and pollen. "Since the ban, we have found that bee-colonies have regained the vigour they enjoyed before Imidacloprid and Fipronil were allowed" said Mr Clement.
A Test Year for French Beekeepers
2005 is a crucial year for beekeepers. For the first time, the two disputed insecticides have been banned from use on fields of maize, oilseed rape and sun-flowers. Their use has been progressively suspended as a result of victories won by beekeepers during a long legal battle. A government moratorium forbade the use of 'Gaucho' on sunflower seeds from 1999 and from 2004 on maize. The use of 'Regent' has been suspended on all crops since 2004.
In spite of the advances they have made, the beekeepers of UNAF are very far from claiming outright victory. "The poisoning of bees, the abnormal behaviour and the collapse in honey harvests that we saw between 1996 and 2004 have been reversed this summer in certain regions", explained Mr Clement. "We must now observe the over-wintering of colonies and the start of the Spring growth to document the deaths, or survival, of bees". In previous years, this mortality has killed-off between 30% and 50% of the stocks, according to honey producers.
However, the improvement in colony survival has not been consistent throughout France. The situation is "more variable", in Poitou-Charentes, in Pays de la Loire, in Vendee, according to UNAF.
Some beekeepers have failed to notice any improvement over earlier years. They may be suffering from the drought affecting these regions. However, according to the honey producers, the banned pesticides are still present in the soil of the fields. The long-term persistence of Imidacloprid and Fipronil in soils where the pesticides were freely used over a number of years, is the cause of continuing bee-losses even after the ban, according to beekeepers,. In addition, 'Gaucho' is still allowed for use on cereal crops such as wheat, barley and oats. UNAF is demanding a total ban on the use of Gaucho for cereal crops.
This year is equally vital for the agrochemical companies. Bayer markets 'Gaucho' and BASF are the owner of 'Regent'. The industry denies any link between their products and the damage suffered by bees. "The theory that there is a sole explanation does not hold", states Jean-Marc Petat, director of the environment department at BASF. The Industry puts forward other hypotheses: the weather, lack of available food for the bees due to crop-monoculture, bee-diseases, bad practice on the part of the beekeeper.
The pesticides incriminated in France are used in numerous other countries. "We would like an independent expert opinion, scientists need to resolve the matter" said Mr Petat. Since the start of this confrontation, the two camps have cited contradictory science studies. The ultimate fate of the currently-banned chemicals must be decided. The European Union, which is re-evaluating all the pesticides authorised in Europe, is asked to make a judgement. In parallel, a working group is charged, by the French Minister of Agriculture, to design scientific tests to determine the toxicity of Imidacloprid and Fipronil so as to arrive at a final decision. www.mdrgf.org Movement for the Rights and Respect of Future Generations. 92 rue de Richelieu 75002 PARIS France.
---
UPDATE ON THE USE OF FGMO AGAINST VARROA
Dr Pedro Rodriguez of the USA has for several years now developed and championed the use of Food Grade Mineral Oil in the fight against varroa. This further information provided by Dr Rodriguez in the American Bee Journal adds to our knowledge of this innovative varroa treatment which is being legalised in more and more countries. Two of the great problems in the use of regular varroa treatments are the build up of resistance to the treatment by the mite and secondly, residue problems in both wax and honey. It seems that FGMO avoids contaminating either honey or wax and there is no mite resistance. It is intriguing to learn that the use of thymol with FGMO improves its action.
Summary
Many forms of application of FGMO were developed and researched looking for cost-effective means of application and continuity of medication within the hives. This search lead to development of an FGMO formula for soaking cotton cords to place within the hive from which the bees would become exposed to FGMO. Intensive research lead to discovery of an economic homemade formula that would utilize hive products that attract bees. This formula provided another bonus. The bees would be attracted to the emulsion-soaked cords and become actively engaged in removing the cords. It was observed that the bees that came in contact with the emulsion, began to comb themselves promptly, thus stimulating their hygienic behaviour contributing to making their body surface sleek which further enhances the bees picking off mites. As with thermal fogging, effectiveness of this methodology was demonstrated by increased mite drop counts. Our research and reports from contributing beekeepers show increased bee populations, increased honey production and increased colony longevity.

Subsequent trials and reports from contributing beekeepers have demonstrated that mites can be treated with FGMO fog alone, with FGMO emulsion soaked cords and or fogging and cords. Use of fogging and cords simultaneously has been determined to be the most effective form of application.
Contrary to synthetic chemicals, especially when applied as thermal fog with a propane fogger, treatments with FGMO are safe and very economic. The propane fogger converts one ounce of FGMO into 2000 cubic feet of fog sufficient to treat large numbers of hives in a very short time.

Research and development with FGMO demonstrated that utilization of thymol as a synergist greatly increased the effectiveness of FGMO contributing to increasing mite drop ratios. Utilization of FGMO/thymol has an added advantage. Mites that come in contact with FGMO/thymol drop readily prevented them from returning to the bee cells to continue their reproductive cycle hence there is no opportunity for mites to develop resistance to FGMO/thymol treatments.

Honey and wax taken from colonies that had been under treatment with FGMO during three consecutive years were submitted for gas chromatography analysis. These tests revealed no traces of either FGMO or thymol thus demonstrating that FGMO/thymol used according to the protocol developed during these trails were effective and safe.

So how effective is FGMO as a treatment against varroa? In a report forwarded to the American Bee Journal last year, the late Dr Pattie Elzen and Dr RL Cox of the USDA found the following:
Food grade mineral oil (FGMO) applied with an insect fogger was evaluated for varroa mite control in honey bee colonies by comparison to an industry standard, coumaphos strips, and an untreated control group (eight colonies per treatment group). During the six-week test period, the Varroa populations increased in untreated colonies and those treated with FGMO, while those treated with coumaphos strips decreased greatly and, consequently, averaged 96.1 to 99.4% fewer Varroa than the untreated colonies at the end of the test period, by the alcohol wash and sticky board methods, respectively. In addition to providing no control for Varroa, FGMO applied in an insect fogger may pose a fire and/or health hazard to beekeepers and bees.
RECIPE OF THE MONTH Back to Top
A HEALTHY BREAKFAST
Do you remember the episode of 'Only Fools and Horses' when Uncle Albert asked Rodney whether he wanted 'a healthy breakfast, or something nice' (meaning a full fry)? Well here is something that is both healthy and nice.
4 c. rolled oats (long cooking).
1 c. shredded unsweetened coconut.
1 c. RAW (Spanish) peanuts.
1 c. hulled RAW sunflower nuts.
1 c. wheat germ.
1/2 c. sesame seed.

Heat but do not boil:
3/4 c. honey.
3/4 c. peanut oil or vegetable oil.

Pour honey oil mixture over protein mixture: Divide into thirds and roast
at 325 degrees for 20 to 25 minutes stirring occasionally. Let cool and
refrigerate.
Serve with milk and add your favorite fruit.
C = cup and as long as you keep the proportions the same, it doesn't really matter what size the cup is. An excellent way of doing things.
FACT FILE Back to top
ROYAL JELLY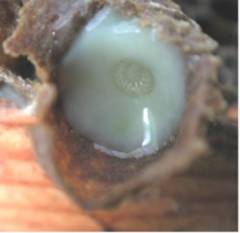 Royal Jelly is one of the most talked about products of the hive after honey itself, and perhaps the one substance about which very little is known. It is probably the amazing fertility and longevity of the queen bee that initially leant weight to the assertion that royal jelly would produce similar effects in humans and I doubt whether many will have forgotten Roal Dahl's tale of the unexpected on the subject. It was probably in the 1950s in France when articles began to appear in the bee press praising the virtues of the substance and it appears that the myth of royal jelly began at about this time. Here we had a substance known to prolong life (in queen bees) and the beginnings of commercial speculation. Also, as little was known about this substance, very little could be refuted. Of course on the other hand, very little could be proved and so spurious claims about its properties abounded with no one willing to discredit them. The production and consumption of royal jelly has grown ever since without its benefit to human health ever having been scientifically or clinically confirmed, and it is possibly this that caused the western medical establishment to be sceptical about the whole issue. There is still a serious lack of scientific data on the clinical benefits. So what is royal jelly made of exactly and is it good for us?
There have been numerous chemical analyses of royal jelly over the years, but only recently has science been able to give detailed information about the unusual and complex nature of the substance. The main constituents are:
Water 67-70% (Min/Max)
Proteins 17% or 45% dry weight.
Sugars 18% or 52% dry weight
Lipids 3.5% or 19% of dry weight
Minerals 2% or 3% of dry weight.
This composition remains fairly constant when comparing different colonies, bee races and time although queen breeders do claim to have identified strains that will produce more royal jelly than others.
All the amino acids essential for human nutrition are present and a total of 29 amino acids and derivatives have been identified. The sugars consist mostly of fructose and glucose in proportions very similar to those of honey and account for 90% of the total sugars.
The lipid content is unique and is a very interesting feature of royal jelly. This lipid fraction consists of free fatty acids with unusual and uncommon structures. They are mostly chain (8-10 carbon atoms) hydroxyl fatty acids or dicarboxylic acids. This is in contrast to the 14 -20 carbon atoms which are commonly found in animal and plant material. It is these fatty acids that are responsible for most of the recorded biological properties of royal jelly.
Royal jelly is rich in minerals and the major mineral salts present are K, Ca, Na, Zn, Fe, Cu, Fe, Cu and Mn. Traces of vitamin C are found. B vitamins are present but A,D,E and K are absent. Testosterone is present in extremely small quantities and no biological effect has been demonstrated for such a small amount and a human male will daily produce 250,000 to 1 million times the amount of testosterone present in 1 gram of royal jelly.
Royal jelly is essential nutrition for the development of the queen bee and leads to longevity unique in the insect world. Which particular fractions of its make up are essential; which ones can be substituted or what is the optimal regime for a good queen bee. Initial studies indicated that a queen determinator did exist and was extremely unstable but later studies did not confirm this hypothesis. Many other hypotheses were put forward including the requirement for the correct viscosity, sugar content, different proportions of nutrients etc, but non have been proved and it is still not known how royal jelly produces its amazing effect on bees.
There is plenty of circumstantial and anecdotal evidence to suggest that royal jelly has a beneficial effect on humans but most are not confirmed by any scientific or clinical evidence, so is there any scientific evidence?
In vitro studies have confirmed that the 10 hydroxydecanoic acid in royal jelly has a thermostable antibiotic effect against Escherichia coli, Salmonella, proteus, Bacillus subtilis and Staphylococcus aureus and it shows one quarter of the activity of penicillin against Mycrococcus pyrogens. In vitro anti viral properties have been described and it has antifungal properties.
Positive effects on reproductivity have been described for chickens, quails and rabbits and weight increases were reported in chickens, partridges and pheasants and calves less than 7 days old fed 0.02g of royal jelly gave a weight gain of 11 to 13% during the following 6 months and these calves showed lower mortality and higher resistance to infection.
These are just a few examples of the confirmed effects of royal jelly but still the mechanisms of royal jelly's activity are not known and hypotheses that the high vitamin content may be the answer can be refuted by claims that a bowl of vitamin rich breakfast cereal in milk would have the same if not better effect. None of this is to say however that royal jelly is not beneficial and it is clear that much more research and clinical investigation needs to be carried out on this extraordinary natural substance and that only ignorance may be limiting our use of a powerful natural medicine.
HISTORICAL NOTE Back to top

This month's historical note is taken from the days of post revolutionary Russia and it seems that whether you liked his politics or not, Lenin certainly got it right when it came to beekeeping and evidently beekeepers held a special place in the order of things. It seems incredible to me that at that time of chaos and danger, the rulers of the fledgling Soviet Union could find time to administer to such matters. (Ed).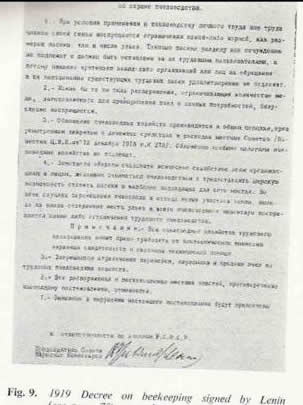 Decree for the protection of beekeeping (1919)
1. When the labour of individuals or their families is used for beekeeping, it is forbidden to limit by any rules either the number of apiaries or the number of hives. Such apiaries cannot be requisitioned or brought under any departments, but must be left in the possession of the beekeepers themselves, and therefore any claims by any organisations or persons to take over for their own use already existing working apiaries are unlawful.
2. Whatever decrees there may be limiting the quantity of honey which is to be set aside for the feeding of bees or for personal consumption are to be disregarded.
3. Taxation of beekeepers shall take place under the general direction of the finances and expenses of local councils. Beekeepers do not come under special tax laws.
4. Agricultural departments are bound to show every cooperation to all organisations and persons desiring to occupy themselves with beekeeping, and to offer every possibility to establish apiaries in the most convenient places. When an apiarist is transferred and new plots of land allocated, or when hives and equipment are moved to such places, there must not be any limitation of beekeeping.
N.B. All working beekeepers have the right to demand from the veterinary workers' commission certificates of safe conduct and technical help.
5. Limitations of the exchange or sale of bees from apiaries is forbidden.
6. All orders and decrees of local authorities contrary to the present decree must be changed.
7. Those violating this decree will be prosecuted.
In accordance with the laws of the R.S.F.S.R.
President Sovnarkom (Signed) V. Ul'yanov [Lenin] April 1919
POEM OF THE MONTH Back to top
And then pell-mell his harvest follows swift
Blossom and Borage, lime and balm and clover
On downs the thyme, on cliffs the scantling thrift
Everywhere the bees go racing with the hours
For every bee becomes a drunken lover
Standing upon his head to sup the flowers
The Land.


V.Sackville West
LETTERS Back to top

Dear David,
Reading the article on imidacloprid set an alarm bell ringing in the back of my mind, I have just got out the sprayer of insecticide I bought earlier this year and discovered that it is based on imidacloprid (0.125g/l), I had not realised that this is licensed for HOME use. This is sold as suitable for use on ornamental AND edible plants, it does warn "Apply away from bees" and "High risk to bees" but then goes on to say "do not apply when blooms are open", however as it is a systemic product I would have thought that ANY application would put bees at risk! The product is sold as Provado Ultimate Bug Killer (ready to use) and is supplied by PBL Home and Garden Ltd (www.bio-garden.co.uk), right at the bottom it has "A company of the Bayer CropScience group" It was bought from Wilkinsons, but is probably available in most hardware/garden stores. This could mean that for the urban beekeeper like me the risk from uncontrolled use of imidacloprid could be quite high. Ben Smith
Dear David,
Re article in Apis-UK 9-10/2005. One of the biggest issues about this chemical imidacloprid, as I recall being reported in previous Bee Culture magazines, is the fact that it is used on non-pollinated crops such as potatoes. Subsequent crops in the rotation schedule, such as sunflowers then seem to absorb this product up to years later where it apparently the cause of bee mortality. This makes proving of the cause of bee deaths extremely difficult. Perhaps you could verify this in Bee Culture's archives? Robert Post
Dear David,
I just caught my inclusion in the Sept/Oct Beedata. I would very much like to return the favour and link to your own website. Please could you supply me a couple of lines to describe the link. Best wishes, Andrew Tyzack
Dear David,
First of all, I'd like to congratulate and thank you for such an informative, well written newsletter. In the last issue, I got especially interested in your description of the OMF. In Brazil, as you surely know, we work with AHBs, and pay absolutely no attention to varroa. Colonies don't "die from varroa", but it doesn't necessarily mean that they don't suffer to some extent.
I think of trying some kind of natural varroa control, like OMF, just to know more about the real damage it can be doing. So I have some questions to you:
You said your OMF goes opened almost all year-round. What are the lowest temperatures in your area? I'm in southern, subtropical Brazil, and we have few days just below 0ºC.
Don't the bees propolise the screen?
Don't the bees cluster up near the roof, escaping from the cool bottom in winter?
Don't you have troubles with ants?
Thanks again and best wishes. João Campos Porto Alegre Brazil.
Dear David,
I rarely write letters to 'the editor' as I suspect it's a fruitless exercise, but in the case of Roger Paterson's observations in the last issue of this newsletter re.queens etc, I feel I must point out one or two glaring errors in the article.
I have been breeding queens for over 20 years and like to think I have a modicum of experience in producing acceptable re-placement queens. While I sympathise with his problems I firmly believe some, if not all, are of his making and perhaps the following might be helpful.
The arrival of Varroa drastically changed the way things were done in the area of queen rearing, it created problems for many queen breeders, those who modified their methods were successful, and those who didn't went to the wall or developed a reputation for poor quality.
For as long as I remember most queen breeders relied on feral drones to help in the mating, a good drone pool was available with little extra effort from the breeder. With the loss of feral hives and a drastic decline in 'kept' bees this drone pool shrank to the point few queens were mating with sufficient drones. Lack of drones will lead to 'drone laying' or to a lower incidence of viable brood, and looking at the photo supplied I would suggest this is the cause.
Some time ago trials were done here in Ontario on close relation mating. It was established without doubt that 'spotty brood' was caused by brother-sister mating, producing results identical to the photograph in the article. So I would suspect the lack of feral drones, close family mating is the main reason for the various complaints of 'drone laying'.
Bee size, either workers, drones or queens is directly related to the available protein in the feed. We did some experiments with small mini hives forced to make queen cells as an experiment, with a lack of young bees and a shortage of stores they produced extremely small queens. While 'the book' puts an emphasis on 'lots of bees' in the cell builder, little is written about the quality of those bees. It is vital that a young hive is selected as a cell builder, little is gained by using a failing hive or one with little emerging brood, field bees are of little use.
There is strong evidence that 'mongrelisation' is also a serious problem for queen breeders, I hope soon to publish and article on this matter, but in the meantime would suggest Roger examines the pedigree of his stock for obvious colour and behavioral changes.
There have been reports of 'sterile' drones, perhaps caused by excessive use of Apistan. I haven't seen any evidence of this and have been using that particular treatment for the last 8 years, but do stress we use IPM and don't rely on just one treatment. www.beeworks.com/essentialoils.htm
All in all, I have to say I think Roger is crying 'Wolf' as a number of his problems are fairly easy to eradicate and don't constitute an 'unknown' new disease. Repectfully D.J Eyre
Dear Editor David Cramp,
I have received the Apis-UK Newsletter for september/october 2005. One of the articles referred to in the newsletter is from "Bee Improvement and Conservation October 2005 Number 21", and the subject is cellsize. I'm very sorry to inform you that the norwegian test results referred to in that article are a result of an illegal publication made by Hans Otto Johnsen. The research belongs to The Norwegian Beekeepers Association, Johnsen is beekeeper, and has been involved in the study by placing 40 colonies to our disposal. The study has been carried out by NBA; all planning, research-design, registrations, and statistical treatment of the data has been made by us. As a research-assistant, Johnsen has been trusted to have information about preliminary results, a trust he has misused by publishing the results as his own. An other important thing is that he has just published the one part of the study that he likes: the one that showed differences between the two groups. The rest of the study indicated no differences between the two cellsize groups, and those results he has chosen not to say anything about. We are really disappointed, this is something we never thought could happen.
Johnsens article was first published in The Beekeepers Quarterly and in Bee Culture, and we made an official statement to disclaim the results. This statement is added to this e-mail, and we will kindly ask you to print it in your newsletter, or at least inform your readers in some way. I will also inform the editor of the "Bee Improvement and Conservation". Best regards Norges Birøkterlag (Norwegian Beekeepers Association) Liv Sæther Myskja. Download Official Statement (PDF 67KB)
BEEKEEPING COURSES 2006 Back to top

1. Beekeeping course in Derbyshire. Dates: Starting Saturday May 6th 2006 and running for 8 consecutive Saturday mornings.Time: 10 am to 12 noon. Venue: Derby College Broomfield Hall campus, Morley near Derby. Cost: £95.35 including Open College Network registration and certification. Beekeeping course tutor: Margaret Cowley. More details from: http://www.bbka.org.uk/php_dfw/display.php?RecordID=1073144962&form_id=1067551182
2. Beginners course in Worcester. 8 wednesday evenings and 2 Saturday mornings starting 18th January 2006. More details from: http://beekeepingcourse.mysite.wanadoo-members.co.uk
3. Beekeeping for Beginners. Starting on Wednesday 15th March 2006 @ 7.30pm for 6 weeks, followed by two Saturday apiary meetings. Fees: £15.00 per person. Concessions £7.50 Full time students – Free. To be held at E.H. Thorne (Beehives) Ltd, Louth Road, Wragby, Market Rasen, LN8 5LA. Tel: 01673 858555. For further information contact Ann Holderness Tel: 01529 302774 or Fred Parker Tel: 01507 523107.
4. Beekeeping courses at Assington Mill in Suffolk: Beekeeping for beginners, Friday 10th February 2006; Hands on the hive, Sunday 7th May 2006 Contact Anne Holden on 01787 229955, E-mail: info @ assingtonmill.com Website: www.assingtonmill.com
5. Beekeeping course for beginners in Tonbridge, Kent. Course number 7035 TON-05- A eight weeks duration starting on Thursday 23rd February 2006 Time: 19.30 - 21.30 Cost £43.00 concessions of £25.80 & £21.50 please enquire if you are eligible. Enrol on line at http://www.kent.gov.uk/learning/adult-education/ or by phone 0845 606 5606.

DATES FOR YOUR DIARY Back to top

Saturday 25th February 2006 West Sussex Beekeepers' Association - 'Better Beekeeping' Convention at Brinsbury College, on A29 north of Pulborough. Speakers - Margaret Thomas and Paul Metcalf. Trade Stands. A superb day of beekeeping with four excellent lectures. Tickets £6 in advance (£8 on the day) from Derek Yates, Longton, Shipleey Road, Southwater, RH13 9BQ. Further information from John Hunt on 01903 815655 or email john_bateman_hunt@hotmail.com. Download Full Details PDF
20th - 24th March 2006 - Eighth Asian Australian Apicultural Conference 2006 Perth. Western Australia. For all information please visit the website http://www.beekeepingwestaus.asn.au or contact: Debrett's Conference & Event Management PO Box 441, Nedlands, WESTERN AUSTRALIA 6909 Telephone: +61 (08) 9386 3282 Email: honeybee@debretts.com.au

Editor: David Cramp Submissions contact the Editor
Web Editor: Steven Turner

E-mail addresses are not hyper linked to prevent harvesting for spamming purposes. We recommend you cut & paste to your e-mail client if required.
QUOTE OF THE MONTH Back to top
Quote of this month

The quote for last month came of course from Ghandi and I'm sure that most of you knew this. This month we dive into history and hear from one of the great philosophers. Who said this?
"Bees are of nine kinds, six of which visit each other. Its food is the superabundance of sweet and moist matter with which the flowers and leaves are sprinkled; this it gathers and stores up, and this is the honey."