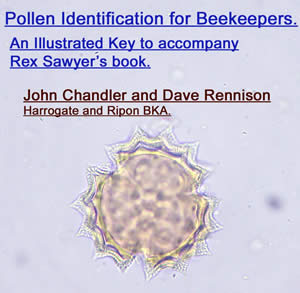 Instructions For Use. This disc will run with Windows '95, '98, 2000 and XP. It will also open on Apple-Mac. You need Microsoft Excel or equivalent to run the spreadsheet.
The disc was prepared using 'Windows XP'. Depending on your computer the disc may open automatically or you may need to go to 'my computer' and open the disc from that location (Drive D) Double click on 'CD Pollen 2005'
Then double click on 'Pollen-Sawyer's Spreadsheet"
By using 'AutoFilter' it is possible to gradually refine your search until you are down to a few possibilities.
Click on the highlighted hyperlink to display a photo of that particular pollen.
Using AutoFilter. Click in the top left cell of the work sheet and this will highlight the whole sheet.
Go to Data in the menu, Filter, AutoFilter (click).
On the down arrows click the column(s) that you have data for (e.g. Size). Pick one of the options and the programme will sort the data for you. Go to a second column and sort on different parameters.
Once you have narrowed the field make a note of the possibilities and return to the main spreadsheet by selecting Data, Filter, AutoFilter and click the switch off.
Check your pollen samples against the hyperlinked pictures or with Sawyer's photographs in the book.
John Chandler and Dave Rennison
Autumn 2005.