Harpsichord & Fortepiano, published twice a year, is intended for everyone interested in the world of early keyboard instruments: devotees -- the professional and the amateur -- players, makers, restorers and listeners.

Since its relaunch, the 9 published issues of Harpsichord and Fortepiano have included over 50 articles, covered 10 major festivals, reviewed over 40 books and musical scores and over 130 recordings. Articles are about:
... collections (for example, the Neumeyer Collection in Germany),
... instruments (a survey of the keyboards in use in Haydn's Vienna),
... performers, both historical (Isolde Ahlgrimm) and living (Igor Kipniss, Jane Chapman),
... performance practice (a special edition focusing on continuo),
... repertoire (John Field and contemporary music),
... building, making and restoring instruments etc.

Our contributors are from around the world -- from, for example: Argentina, the States, Canada, Europe, Australia -- and include established scholars such as Richard Maunder and Philip Pickett, as well as younger scholars such as Giulia Nuti and Robert Webb. Articles can be short and informal, or long and scholarly -- whatever best suits the subject. We have covered festivals from Boston to Bruges, Melbourne to Montreal. H&F is essential reading for all those interested in early music and early keyboard instruments (including the clavichord). In addition, it is able to provide a forum for new ideas and new thinking.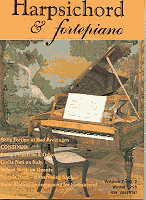 Send views, news and contributions for articles & reviews to: The Editors [Peter & Alison Holloway] at: 3 Ventnor Terrace, Lincoln, LN2 1LZ U.K
Tel/Fax: (+44) (0)1522 - 589137 email: harpsichord@amserve.net
Site updated 16 September, 2001