Auction of Holiday Vouchers - valid until 31.10.03
AUCTION - Funds raised go to The National Honey Show!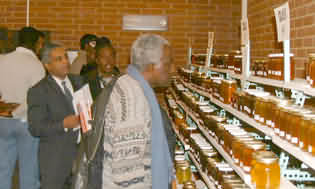 Want to SAVE £££'s on a foreign package holiday this year or next?
We have received VOUCHERS to AUCTION to the highest bidders.
We have two @ £300, two @ £250 and two @ £150 - each for a minimum of one adult and at least 7 days!
To use the £300 voucher you choose from British Airways Holidays current brochures, (excluding the Club Golf and Cities & Short Breaks brochures).

To use a £250 voucher you choose from Kuoni (Worldwide) or Hayes & Jarvis current brochures.

To use a £150 voucher you choose from the following tour operators:Cosmos,
Unijet, Airtours, First Choice, JMC.
All bookings must be made through Travel Design Ltd ( ABTA EO121 ).
We also have a 4 day 3 night Paris Coach Tour on offer, (additional companion(s) at £125 p.p) - courtesy of European Vacations and Express Tours Ltd. Valid until 31 Dec 2002.
Step 1 - Go to your local travel agent NOW or send for the brochures.
Select!

Step 2 - Post your bid. It's Easy!

First two bids over £150 - each secures one £300 voucher
First two bids over £125 - each secures one £250 voucher
First two bids over £75 - each secures one £150 voucher

E-mail bids click here or Tel: 020 8940 6070 Click here to print this page